Material Solutions is the fully Irish-owned leading provider of high-quality materials to the Print & Signage industry. With a rich history dating back to 1935, our company has evolved and expanded its offerings to meet the changing needs of our customers. Founded by Daniel O'Sullivan, one of our owners' grandfather, as a sole trader, we have grown into a trusted and innovative supplier in the industry.
At Material Solutions, our vision is to "Make it easy to do business." This vision serves as our guiding principle, inspiring our day-to-day lives and how we operate. We strive to streamline processes, offer convenient solutions, and provide exceptional customer support, making it effortless for our clients to engage with us and meet their material requirements.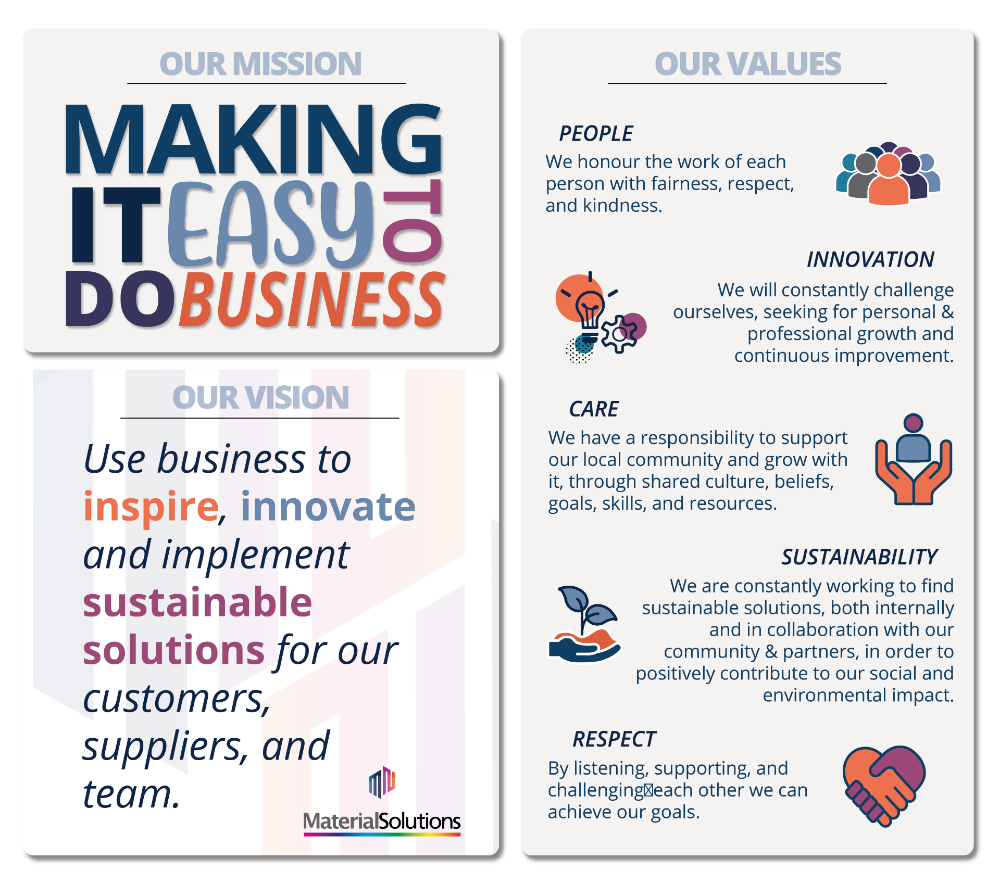 Throughout the decades, Material Solutions has consistently adapted to the market's demands. What began as a show card printer and small paper merchant has transformed into a comprehensive company with diverse divisions catering to various sectors. We take pride in our ability to anticipate trends and provide cutting-edge solutions for our customers.
Plastic Solutions: Specializing in Plastic Sheets for roofing, DIY, and construction, this division was established in 2015 and offers a wide range of durable and versatile materials to meet the demands of different projects. With a focus on quality and innovation, we provide solutions that exceed expectations.

Interie: Our Interie division was launched in 2021 and focuses on interior materials for interior design and architecture. We offer a carefully curated selection of premium materials, including wall coverings, natural and façade films, acoustic textiles and more, to enhance any space and bring design visions to life.

Cladding Solutions: As experts in wall cladding sheets and accessories, our Cladding Solutions division serves the needs of bathrooms, kitchens, and other clean and wet areas. Launched in 2023, this division offers a range of materials that combine functionality and aesthetics, ensuring superior performance and style.

Car Wrap Solutions: In the automotive industry, our Car Wrap Solutions division was launched in 2023 and specialises in paint protection film for cars. With an emphasis on preserving the appearance and value of vehicles, we provide state-of-the-art protective solutions that keep cars looking pristine.
As a fully Irish-owned company, we are deeply committed to our roots and the communities we serve. We prioritise building long-term relationships with our customers, providing exceptional service, and delivering products of the highest quality. Our team of knowledgeable professionals is dedicated to understanding your unique requirements and offering tailored solutions to help you succeed.
At Material Solutions, we believe that materials play a vital role in shaping the success of businesses. With our extensive range of products and unwavering commitment to excellence, we are your trusted partner in achieving outstanding results, no matter your industry; we have a solution for you.
Our Sustainability Journey
For almost 90 years, Material Solutions has been at the forefront of our industry. Fundamental to our success, and deeply engrained in our culture, is a continuous drive to improve, develop and innovate.
In these unprecedented times of global climate change, it is imperative for every one of us to play our part in protecting our environment. As one of our core company values, we view sustainability as critical to our future growth strategy in terms of our business and our wider community.
We understand our responsibilities and every day we are working internally and, externally, with our key business partners to challenge our ways of working so that we can all positively contribute to environmental change.
There is not any one solution to repair the global climate crisis but actions we take will make a difference. Whether it is changing the cleaning products in our offices, moving our car fleet to EV solutions, installing solar panels or working with our supply chain to provide more sustainable products. What is fundamental to us as a team is that we invest our time, energy and resources to drive change.
We look forward to you joining us in making a difference and in delivering positive change that will enhance our community in addition to a wider social impact.